DOUGH SHEETER OR KHARI SHEETER
Wide Sheeting Rollers

17" - 25"

Max. Roller Opening

15" (400 mm) thickness

Max. Dough Batch

5 Kg

Power

1 HP

Voltage

1 phase / 3 phase for 220 - 415V

Width of Conveyor Belts

20" x 94.5" (515 x 2,400 mm)

Dimension of Sheeter

98.4" x 34" x 43" (2,500 x 850 x 1,100 mm)
TABLE TOP SHEETER
Sheeting Capacity

4 Kg

Wide Sheeting Rollers

17" & 20"

Max. Roller Opening

15" (40 mm) thickness

Synthetic Fabric Belts

20"W x 67"L (515 x 1,700 mm) longer

Motor Power

1 phase / 3 phase for 110 or 220V

Voltage

20" x 94.5" (515 x 2,400 mm)

Approx weight

150kg

Dimension

71" x 34" x 24" (1,800 x 850 x 600 mm)
STANDING DOUGH SHEETER REVERSIBLE DOUGHT SHEETER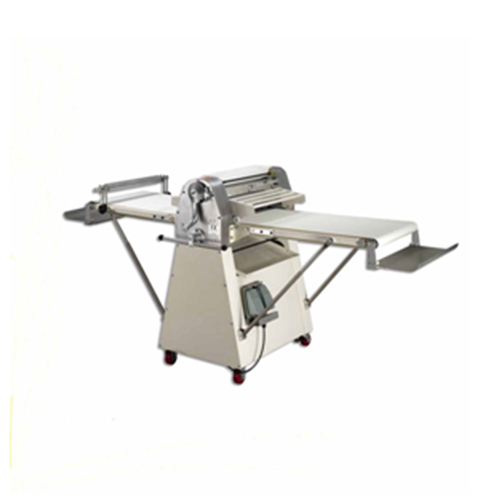 Wide Sheeting Rollers

17" - 25"

Max. Roller Opening

15" (400 mm) thickness

Max. Dough Batch

5 Kg

Power

1 HP

Voltage

1 phase / 3 phase for 220 - 415V

Width of Conveyor Belts

20" x 94.5" (515 x 2,400 mm)

Dimension of Sheeter

98.4" x 34" x 43" (2,500 x 850 x 1,100 mm)
Features
Handle and foot pedal control.
Thickness handle can be upward or downward.
Forward / Reverse level switch controls conveyor.
All stainless steel body is available.
Croissants, Pastry Puffs, Danish Rolls, Cookie dough, Pizza dough, Pie / Phyllo dough.
Powerful motor with totally enclosed, permanently lubricated bearings.
Heavy-duty Safety Guard enclosed, moving rollers for operator protection.
Sanitary, Heavy-duty PVC fiber conveyor belt with precise, tear-free rollers.
Pistol grip allows adjusting the rollers in a quick and easy way.
Final thickness to ensure identifiable thickness for every product.
Scrapers can be easily removed.
When not in use, conveyors can be raised.